Bujinkan Newbury Dojo
Ninjutsu in Comté d'Alameda, Californie ( États-Unis )

Bujinkan Newbury Dojo
2003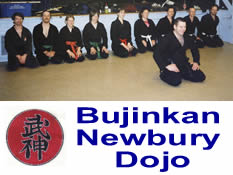 Martial art: Ninjutsu
Address
84 Bolivar Dr, Berkeley, CA 94710, USA
Comté d'Alameda, Californie ( États-Unis )

Juniors (8yrs to 14yrs) Monday 6.15pm to 7.15pm
Adults (15yrs +) Monday 7.30pm to 9.30pm

We teach Bujinkan Ninjutsu and Budo Taijutsu. The first lesson is free, so come along and see if ninjutsu is the art for you. After that its monthly subscription for which you get a black gi, indoor tabi, and a training syllabus. There are no joining fees or grading fees. See the website for more info.
Thank you for your review.
We will process it as soon as possible